News — overland
Posted by Mark Hesser on
Tags:

4x4, 4x4 sprinter, camper, camper van, expedition, expo, Fox, Fox Racing, Fox Shocks, Fox shox, lift, Lift Kit, mercedes, Mercedes Sprinter, Mercedes Van, Mercedes-Benz, Mercedes-Benz Sprinter, offroad, outside van, overland, Shocks, sportsmobile, Sprinter, Sprinter suspension, suspension, Van, Van Compass, vancompass
Posted by Mark Hesser on
 Add protection and peace of mind while exploring in the back country with the Van Compass rear differential skid plate.  Loss of gear oil due to a cracked housing or leaking cover can be catastrophic to the rear differential.  This skid plate protects the driveshaft u-joints, cast iron differential center section and lower portion of the thin sheet metal differential cover.  Constructed from 3/16" steel and powder coated for corrosion resistance to provide a strong, smooth surface to slide over obstacles on the trail. The skid system bolts on in minutes with simple hand tools.  Detailed instructions and all necessary hardware is included....
Tags:

4x4 sprinter, camper, camper van, engine skid, expedition, expo, guard, mercedes, Mercedes Sprinter, Mercedes Van, Mercedes-Benz, Mercedes-Benz Sprinter, offroad, oil pan, outside van, overland, Shocks, skid plate, sportsmobile, Sprinter, Sprinter suspension, suspension, Van Compass, van specialties, vancompass
Posted by Mark Hesser on
The bolt-on Striker 4x4 Sprinter 2.0" suspension lift system provides clearance for larger tires and offers additional ground clearance under the van. Additional traction from larger tires and ground clearance helps to avoid obstacles on the trail to your remote campsite.  The Striker system retains the stock vehicle suspension geometry, payload rating and ride quality. All of the suspension lift system components are constructed of high quality materials here in the USA and are powder coated for durability and corrosion resistance. With this lift kit, 315/75/16 (35") tires can be fitted with the following conditions met: Removal of the front mudflaps Slight trimming of the...
Tags:

4x4, 4x4 conversion, 4x4 sprinter, camper, camper van, engine skid, expedition, expo, Fox, Fox Racing, Fox Shocks, Fox shox, guard, lift, Lift Kit, mercedes, Mercedes Sprinter, Mercedes Van, Mercedes-Benz, Mercedes-Benz Sprinter, offroad, oil pan, outside van, overland, Shocks, skid plate, sportsmobile, Sprinter, Sprinter suspension, suspension, Van, Van Compass, van specialties, vancompass
Posted by Van Compass on
Posted by Mark Hesser on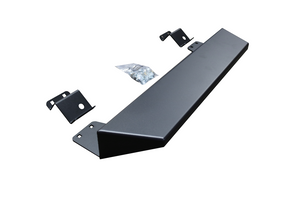 2007+ SPRINTERREAR HITCH STEPNOW AVAILABLE   Sprinters without a rear step bumper can be difficult to access through the rear entry doors.  This step bolts onto the factory receiver hitch without impeding its use.  This is a high clearance step that features no loss of ground clearance all while providing an extra level of protection from inconsiderate drivers who like to get too close to our vans when parking in tight spots. INCLUDED COMPONENTS: 1/8" Steel powder coated step 1/8" Steel powder coated mounting brackets All necessary hardware to attach to the factory receiver hitch 
---