News
Posted by Andrew Knox on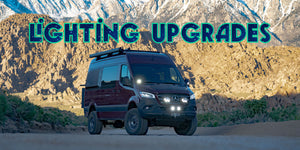 In this article we discuss the various light mounts that Van Compass offers, how they are best used, and some of the positive benefits to adding auxiliary off road light upgrades to your Sprinter or Transit van.
Posted by Andrew Knox on
Posted by Andrew Knox on
Leaf springs are probably the oldest, continuously used form of suspension. That would lead one to think that they must be something super simple and well understood, but in reality the opposite is true, and there is a lot more going on than meets the eye. At their core, a leaf spring is a stack of metal strips designed to carry a load via spring force, locate the axle under the chassis, and control acceleration, braking and lateral forces on the suspension. The spring's length and arch, the quantity and thickness of each leaf, the engagement points between the tips and...
Posted by Andrew Knox on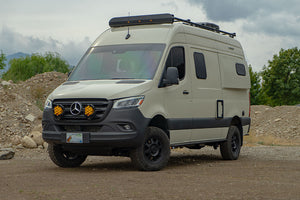 The Revel is certainly one of the most common variations of adventure vans based on the 2500 4wd Sprinter chassis. Winnebago recognized the capability and versatility of this platform early on, and was quick to bring a well thought out solution to the RV market for mass consumption. With it's simple but well thought out layout and feature list, the Revel makes an enticing option for those that want an 'off the lot' adventure van. For starters, we went straight to upgrading the underwhelming factory suspension: a Stage 4.3 system was chosen. Tuned for the weight range that is...
Posted by Mark Hesser on
FALCON SHOCKS - THE HOW AND WHY Version 1.0 General Notes In this blog post we will go into depth as to why we at Van Compass made the transition from selling Fox shocks to developing vehicle specific shock packages with the technology available from Falcon Shocks. We will do our best to show the differences between the new Falcon shock offerings and the equivalent Fox shock offerings we had previously sold in the past. We worked exclusively with the engineers at Falcon to bring the high-end shock technology Falcon has developed for the Jeep and truck industry to the...
---